The Next Generation SUV Crossover:
The All-New 2019 Toyota RAV4
"Toyota is committed to giving customers more of what they want – and as our best-selling vehicle, it's clear that many Canadians want the RAV4, and will be thrilled with this all new version," said Cyril Dimitris, Vice President, Toyota Canada Inc. "There is so much that's new about this vehicle – from its platform, to its bold design and refined cabin. Best of all, the hybrid version of this will be built in Canada, joining its conventional gas-engine cousin at our RAV4 assembly plant."
Over the years, Toyota has listened to owners and dealers and it has paid off. Over the last five years, RAV4 volume has doubled, which speaks profoundly to the segment's attractiveness and growth, and ultimately, RAV4's popularity. RAV4 currently ranks as the number-one-selling vehicle in the Toyota lineup.
No matter the grade, every RAV4 is a winning choice, whether it's for a city exploration, a weekend trip to the countryside, or a jaunt on the trails. When it goes on sale in the winter at the end of 2018 (with hybrid models right behind in early 2019), we predict that the all-new RAV4 will premiere, yet again, at the forefront – both for the Toyota brand and the segment.
Designers applied the theme of Refined to every detail of the interior cabin, resulting in an impressive arrangement that suits a wide variety of driving experiences and preferences. The interior atmosphere represents an elevated sophistication with a premium, modern design, and uncomplicated layout.
Every RAV4 is equipped with Entune 3.0 multimedia with Apple CarPlay. The standard Entune 3.0 audio system houses a 7-inch touchscreen that is perched atop the center stack. Entune 3.0 Audio Plus adds an 8-inch touchscreen and SXM Radio to the setup. Entune 3.0 Premium Audio enhances the system with embedded dynamic navigation to help drivers chart their course.
Toyota continues to lead the pack when it comes to safety, and the all-new RAV4 provides drivers and passengers with standard safety technologies that help move Toyota one step closer to achieving the ultimate goal of zero casualties from traffic accidents.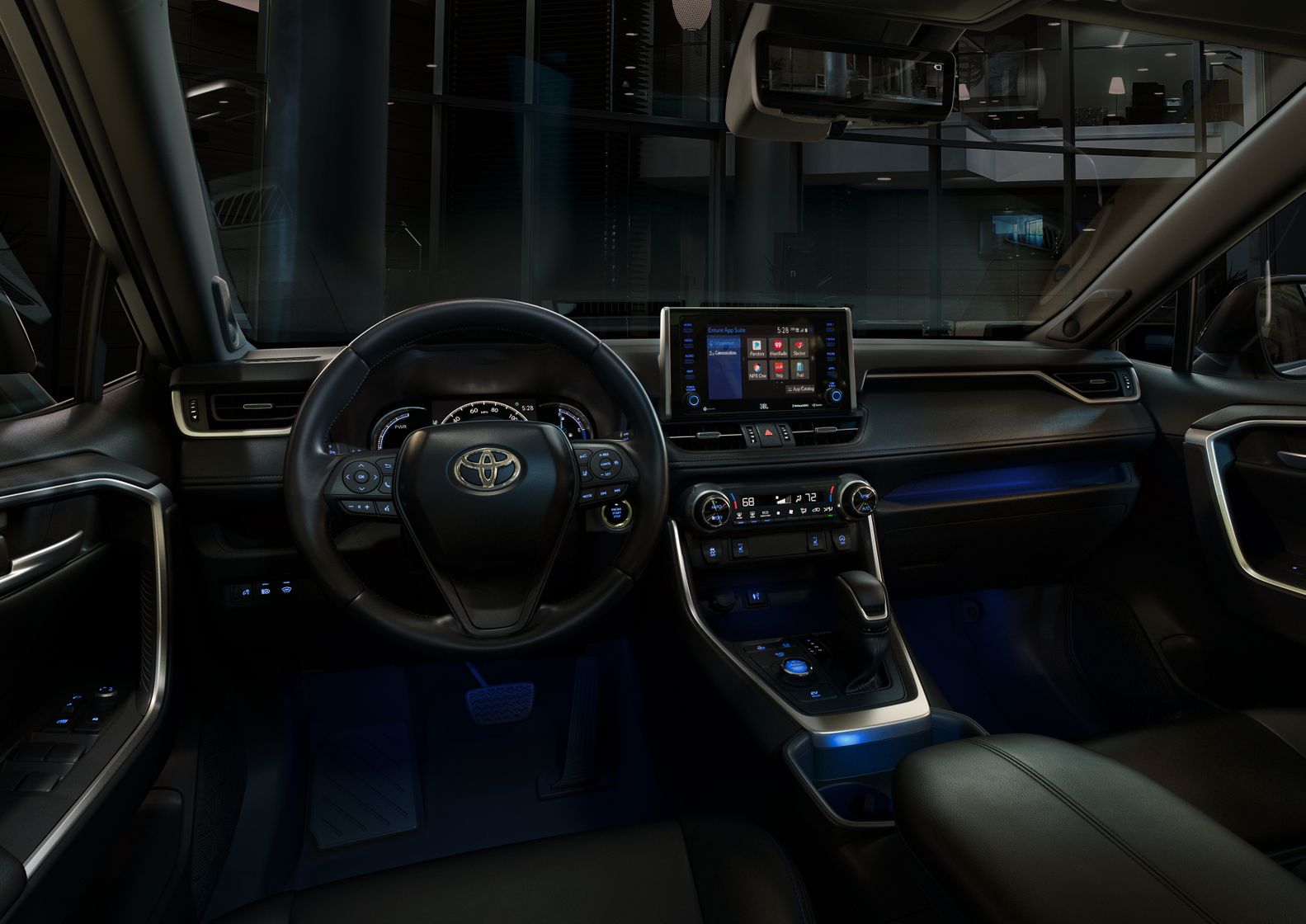 For the all-new RAV4, designers kept in mind design elements of Adventure and Refined to allow owners to get up and go in their RAV4, no matter the time or place. An emphasis was placed on maximizing the small SUV presence while maintaining high levels of finesse inside and out.
Engineers worked for about four years to fine-tune every aspect of RAV4's performance, handling stability, and ride comfort. The end goal was simple: engineer a driving experience that is Confident and Natural.
For those who prefer sportier driving dynamics, XSE Hybrid stays ready with the perfect conflation of sport and utility. XSE is an all-new addition to RAV4's Hybrid family.